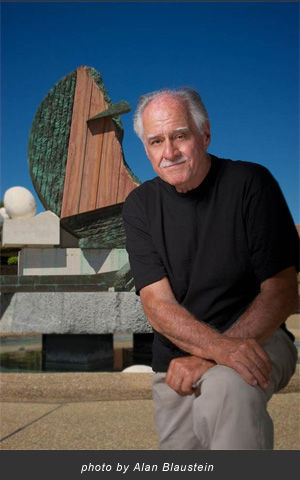 Salvatore Pecoraro's career as an artist and teacher has spanned over five decades. It began when he attended the California College of Arts and Crafts in Oakland in the late 1950's, and went on to earn a master's degree in printmaking from San Francisco State University in 1966.
His work has always strived to be innovative. In the late 1960's, he established himself in the San Francisco Bay Area with the debut of his Pinole series, 16 large, acrylic paintings of female faces in geometric forms combined with clouds and rainbows.
From 1969 to 1971, he made waves with his ambitious, large-scale work, 365 Skies 1970. Made up of 365 one foot square styrene panels, each panel is an airbrushed, acrylic painting of the sky in California, one for every day of the year in 1970. These paintings are based on photographs, and when assembled chronologically, stand a towering seven feet high and span 52 feet horizontally.
Throughout the early 1970's, he created many small and large airbrushed sky paintings that were widely exhibited and collected. By 1976, Salvatore's love of airbrushing the sky had transformed into the Prismatic Light series, a body of seven large airbrushed acrylic paintings with vivid colors and shapes that depict various prisms.
Next, he worked on a series of three dimensional, constructivist wall sculptures known as the Prismatic Construction series. From 1976 to 1982, he created 100 works for this series.
When asked about his art, Salvatore has stated, "I have always felt the need to express contemporary and innovative ideas using the latest materials and technologies, to sum up the best parts of thousands of years of art in a "this century" manner. My work needs continuity to the past, my own past and the present, as a kind of validation. I guess you could say that it pays homage to the 20th century at the moment, rather than in retrospect."
In 1983 his interest in sculpture led him to Italy, where he began to make his wall constructions with marble. This idea expanded into a fourteen year quest to combine his sculpting and painting skills.
From 1983 to 1996, Salvatore was commissioned to create monumental sculptures, flowing fountains, and large wall pieces for private, public, and corporate clients. He used various materials such as marble, bronze, cast stone, copper, and glass. He assembled broken and carved edges against clean cut ones, and created a contrast between the mass and the fragments, ultimately forming a fractured symmetry. The issues of architecture, construction, and history all played a part in how he created these works.
Between 1988 and 1990, Salvatore created his Archaeo-Techtonic series of 15 sculptures made of cast stone, cast bronze, marble, brass, and Plexiglas.
In 1997, he created the Branciforte Construct series of low and high relief, textured wall sculptures with acrylic paint on wood paneling. These pieces were created as an homage to Richard Diebenkorn, who was his drawing and painting instructor at the California College of Arts and Crafts.
Between 2000 and 2001, he created the 1st Encore series of acrylic paintings. It consisted of more than 170, one foot square, mixed media paintings on raised wood panels. His inspiration for the series was his love of creating both realistic and nonobjective art, utilizing a variety of technologies and mediums. He is currently working on the complementary 2nd Encore series, and hopes to eventually turn this series into a trilogy.

Salvatore Pecoraro's work has made its way into many corporate, private, and public art collections. Museums across California, in Oakland, San Jose, and La Jolla, feature his work as part of their permanent collections. After teaching art for 40 years, most recently at De Anza College in Cupertino, California (for 28 years), Salvatore retired. He currently spends his time making sculptures and paintings at his 10,000 square foot studio, Studio Campobello, which is nestled in the beautiful mountains of Santa Cruz and displays over 50 years of his cherished artwork.